Missing Images

This article could use some glamour shots.
---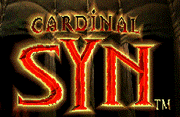 Cardinal Syn, Criticom, and Dark Rift are three 3D fighting games designed by Kronos Digital Entertainment. They all have similar gameplay, and they are all really really bad.
The endboss of Cardinal Syn, Syn is a wizard who conned the rulers of the Bloodlands into giving up the magic scrolls they possessed which could bring peace to the land. After she staged a phony tournement she claimed the power of the scrolls as her own, and left the Bloodlands to tear themselves apart in war. Every character fights her as the final opponent, where she uses the scrolls to turn herself into a dragon. In her ending she leads a dragon army to conquer all lands.
Daemonica
Edit
Daemonica is a character in both Criticom and Dark Rift, and is possibly the same character in both. She was summoned to the conflict by demonic sources looking to obtain the newly stolen crystals. In Criticom she's basically a naked woman with long fingernails and bone heels. In Dark Rift her complextion has worsened significantly.