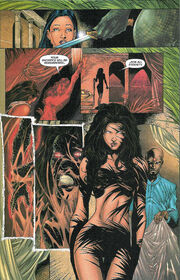 Cursed is a comic published by Top Cow Productions. The story centers on a woman whose family is haunted by visions and insanity. In truth their bloodline are the avatars of Osiris on earth, chosen to do his bidding. She meets another avatar of the gods, Klara Peterson, in reality a 2000 year old Cleopatra. Her suicide made her immortal, but it also gave her the body of a snake-person. Only with a willing sacrifice can she regrow a temporary human skin.
Ad blocker interference detected!
Wikia is a free-to-use site that makes money from advertising. We have a modified experience for viewers using ad blockers

Wikia is not accessible if you've made further modifications. Remove the custom ad blocker rule(s) and the page will load as expected.