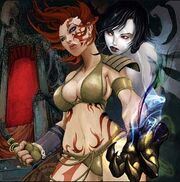 Tehra Dark Warrior is a video game created by StormBASIC Games. Centuries ago Humans and Urka'h, after years of endless war, agreed to a truce. In order to maintain the truce a warrior was created, half-Human and half-Urka'h. The peace lasted, however, and the warrior was left in stasis. Flash forward to the present day when the Urka'h, without warning, break the truce, and Tehra is hastily revived to investigate the disturbances.
Tehra is handy with a broadsword, and can cast magic by absorbing the souls of slain monsters. By filling up her magic meter entirely Tehra can transform into her Urka'h empowered form, where she turns blue, gets even more naked, and deals additional damage with her attacks.
Ad blocker interference detected!
Wikia is a free-to-use site that makes money from advertising. We have a modified experience for viewers using ad blockers

Wikia is not accessible if you've made further modifications. Remove the custom ad blocker rule(s) and the page will load as expected.